Living conditions
---
Although Hong Kong is one of the most densely populated cities in the world, with 6,320 people per square kilometre, it has been reported as one of the greenest cities in Asia. Hong Kong Island is roughly 82 square kilometres, with most of this area being mountainous rock. Due to the limited land area suitable for building, Hong Kong has developed vertically, with the majority of people living in high-rise apartments. The rest of the open space is covered with parks, woods and shrubs earning Hong Kong its green reputation. Low-rise developments and townhouses are built in areas with height or zoning restrictions.
Hong Kong Island, Kowloon (9sqkm) and the New Territories (945sqkm) are the three main parts that make up Hong Kong. Land mass is continuing to grow through land-reclamation projects, causing Hong Kong's harbour to shrink. It is estimated that the harbour has shrunk to nearly half of its original size over the decades indicating the absolute premium value of land in Hong Kong.
The development of nine new towns in the New Territories has resulted from efforts to improve living conditions by de-centralising the population from over-crowded urban districts. 3.2 million people now inhabit these expanding towns, which show no sign of slowing down. Kowloon houses the most densely populated residential housing blocks in the world. Both the New Territories and Kowloon have height or zoning restrictions on building meaning that they also have low-rise developments or townhouses.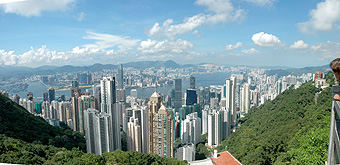 To compliment the extremities of wealth in Hong Kong, living conditions can be small, cramped and windowless to sprawling, regal and luxurious. A great variety of contrasting living conditions exist in Hong Kong; from cosmopolitan areas covered with high-rise apartment blocks to sophisticated suburbia with lavish, nearly identical townhouses to traditional villages with outdoor noodle houses and quaint seaside houses. It is fortunate to know that wherever you live and whatever the condition of your dwelling is, there are open, green spaces to unwind in.